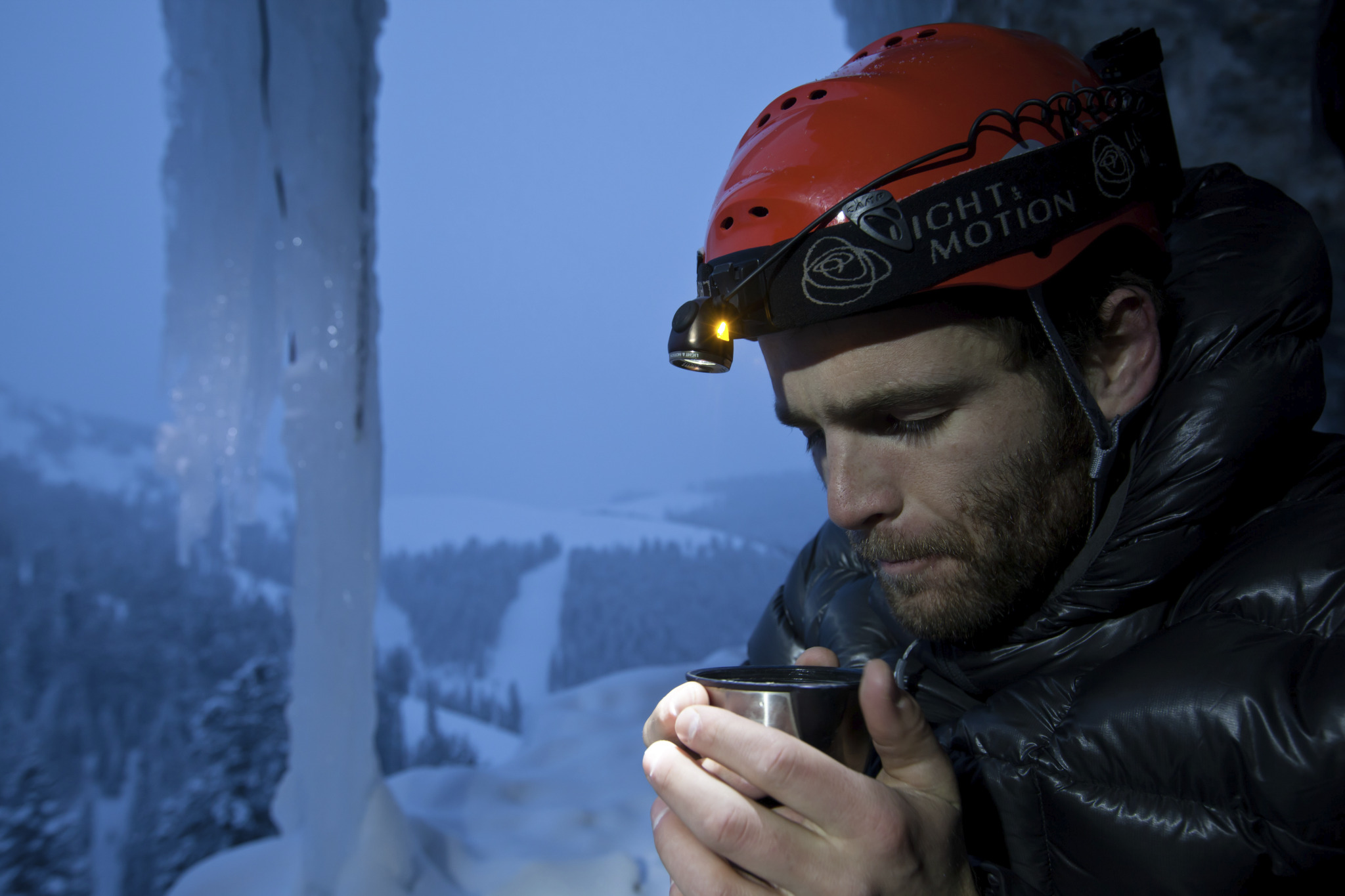 MOUNTING OPTIONS
You can use the light as a hand flash light or mount it on a head strap, helmet, or bike!
Mounting on a head strap: To mount to a head strap snap the battery into the battery bracket and slide the light into the front mount until it locks in place.
Mounting on a helmet/bike: To mount the light onto a helmet you will need to use the bike mounts.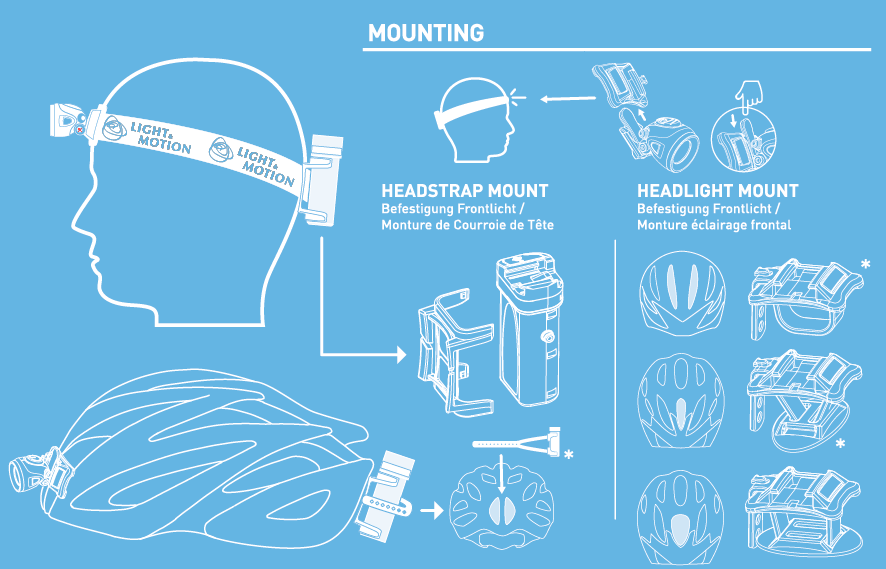 SOLITE USE
The Solite outdoor light has three main settings: high, medium, low and three secondary settings: read, pulse, and SOS. Cycling through these different functions is easy!
Solite's all have one switch on the top of the head that controls power. A brief button push activates "Cruise" mode where you can cycle through high, med, or low with a single press
To turn your light off hold the power button for one second.
To enter read/camp mode press and hold the power button (while off) for 2 seconds. In this mode you will be able to cycle through Read, Pulse, and SOS.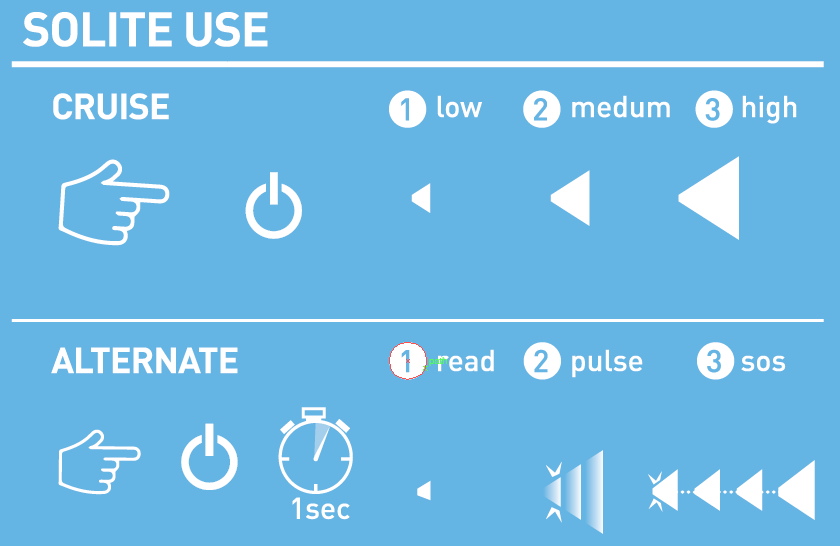 LOCKOUT MODE
Travel lockout mode is a way to lock your light off so that it will not accidentally turn on in your bag. This will help to preserve battery life.
When your light is off and unplugged, press and hold the power button for about 4 seconds. The indicator light will blink red 3 times activating travel lock out mode.  To unlock press and hold the power button for about 4 seconds. The indicator light will blink green 3 times.

LOW BATTERY WARNING
When the battery of your Solite has reached 5-10% the light will begin to flash and switch to a lower setting. The light will continue to flash a warning every three minutes unless you manually change the setting.
AUTO SHUTOFF
When your battery is dead, the light will flash for 10 seconds then shut off.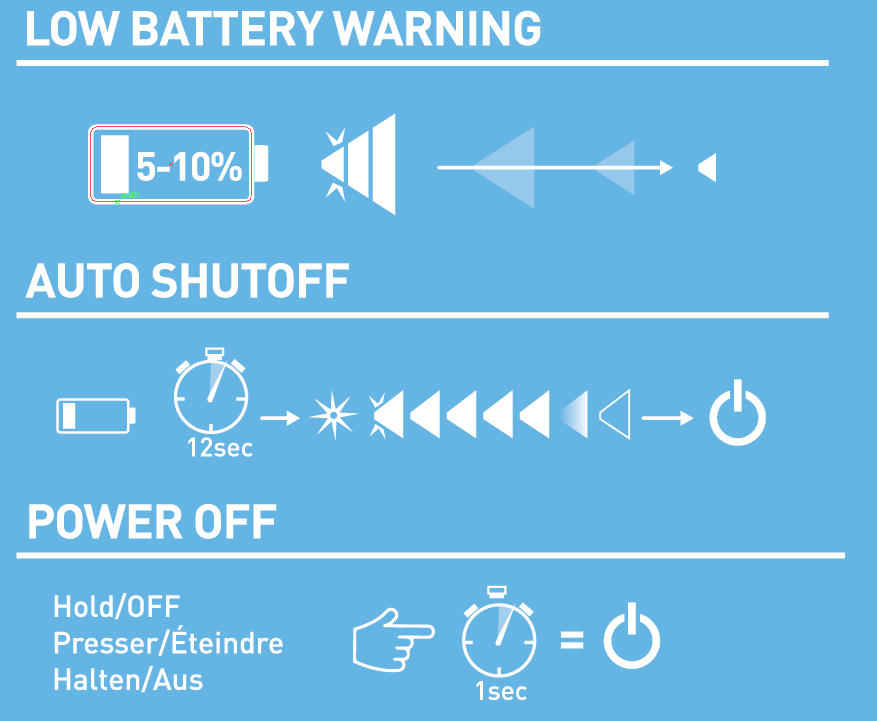 CHARGING YOUR SOLITE
Plug the USB charging cable into an appropriate USB port on your computer or wall adapter.
Attach the USB cable to the appropriate charging port on your Solite.
Once the battery is attached to the USB charger, a flashing red, amber, or green LED will illuminate on the battery pack indicating the level of charge.
When the LED indicator remains a constant green, this is an indication the battery is fully charged
The Solite will charge from depleted to full in about 5 hours (7.5 hours for the Solite 250EX with a 2A USB adapter). 
INDICATOR DURING CHARGE:                  INDICATOR DURING DISCHARGE:
0-25%: pulsing red                                   100-50%: solid green
25-50%: pulsing amber                            50-25%: solid amber
50-99%: pulsing green                             25-10%: solid red
100%: solid green                                      10-0%: flashing red 
LITHIUM ION BATTERY TIPS
The Lithium-Ion battery contained in your light will power you through many hundreds of rides and will serve you well if you care for it properly. The battery may lose charge slowly over time, and damage can occur if it drains too far, so follow these simple rules:
Don't store the battery dead. Charge it up after you ride!
Charge before your ride if it's been in stored away for a while.
For long term storage, charge your battery every 6 months.